Every time we go out whether to the zoo or the grocery store, I have my camera. I'm rarely ever without my camera, batteries fully charged. Even in high school, I was the girl with a camera constantly documenting bad wardrobe choices and fleeting relationships. I try not to have the camera out all the time though. I like to have it available for those moments you must capture, the ones you can't believe are happening, the ones you want to make into memories.
This year, Dan and I have decided to put those memories to use. We decided to use
Shutterfly
for our
Christmas card
using these two photos of the boys (in black and white) and one of them together (it'll be a surprise!). It was hard to decided which pictures to use since I literally have thousands! Like
my sister
, I too wasn't sure how many pictures to use and who to showcase. We have very few pictures of us as a family, and I look pretty run down in most of them so that made it easier. Last year, Dan made our cards with a custom print. I love it when he's motivated to be artsy because it always turns out awesome. Now that we have
two
adorable boys, it's hard to resist an opportunity to show them off via other people's fridge during the holiday season!
I'm also pretty tempted to indulge in some extras like these cute customized note pads. Checking off your grocery list would be much more fun with an adorable snapshot of your new baby in the corner!
I also created a
small photo book
(like the one below) a few days after Lazzy was born. I wanted to have something to show people who were excited to hear about the birth. With so many pictures and not enough frames, these little books are the perfect way to put those dusty memories to use! I'm actually thinking about making a story book about the brotherhood of Eli and Laz.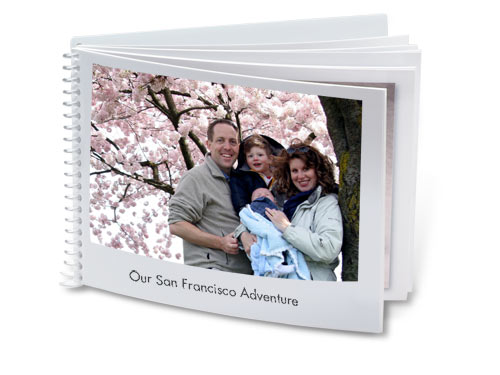 Calendars
are a great way to share your memories with those who love your kids almost as much as you do. I just ordered two as Christmas presents for certain somebodies.
I easily fill my photo folders with snapshots of our outings, holidays and special events. Now that everything is digital, it's hard to find reasons to even print my photos thus leaving them in their dusty folders, overlooked and forgotten about. Thankfully, Shutterfly gives you lots of ways to enjoy your memories throughout the day.